Hi, I'm Laura.
I'm a 22 year old nursing student from the Gold Coast, Australia and it is rapidly becoming clear to me that I have a craft addiction.
I grew up watching my mum make beautiful quilts – and myself making the demented kind of projects you'd expect from a primary schooler.  Like sewing together two doll shaped pieces of fabric and stuffing it.
When I was a bit older, Mum wanted to sew a quilt for each of us three kids.  She let me help with mine – handsewing endless hexagons together by hand.  I mainly remember doing it sitting on the grass "watching" my brothers play cricket for hours each weekend.  Unsurprisingly, that quilt is holding up well… where Mum sewed.  My pieces are showing a little more strain…
I'd been out of high school for four years when I decided I wanted to learn to sew clothes.  Mum helped me (a LOT) and I finished both a toile and the actual dress.  Unfortunately, the style was seriously unflattering, but I loved the process and got hooked on the feeling of wearing clothes I'd made.
I bought my Mum an old Singer sewing machine on eBay, but when I got it, the cushion was missing from the stool.  So while Mum was away, I set about sewing a new one.  I found an online tutorial, made a practice one then made the actual cushion.
From there, I was pretty much done for.  I made a laptop sleeve that same weekend and haven't looked back.
I started sewing clothes (although it took a while before they were really wearable) and reading sewing blogs.  I've learned so much in such a short space of time!
That was only a year ago.
Now I've started knitting and am currently eying off cross-stitch.
I WANT ALL THE CRAFTS!
The Enablers
Bernie
Bernie is a Bernina Bernette 25, and a mighty fine one at that!
My parents and my boyfriend, Kyle, went in together and bought her.  Seriously, I've never been so excited by a Christmas present.  Anyway, she came from these wonderful people, who also gave me a free "How to Use Your Machine" lesson, which was absolute gold.  Although the buttonhole attachment and I still aren't very good friends.
Also, I can write on her with whiteboard marker, a feature which brings me untold amounts of joy.
Bobby
This is Bobby, the Hobbylock 763 Overlocker!  After sitting 'broken' in Mum's cupboard for a decade, we took him out, got him fixed and serviced.  And he works!  I took the Craftsy "Beginner Serging" class and now I can use him!
Overlocked edges are my new favourite.
Valerie
Valerie is my brand-spanking new dressmakers dummy.  She's glorious!  She's an early Christmas present from Kyle (and me).  I love her so.  She's a Lady Valet and she has a wooden neck and feet.
Feelin' Sociable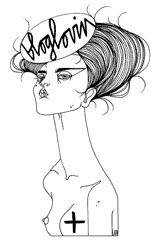 Follow me on Kollabora
Follow me on Ravelry – I'm SewLauraSew